Fantasy Fest Parade
Be Dazzled & Entertained as The Fantasy Fest Parade makes it way down world famous Duval Street from the Gulf of Mexico to the Atlantic Ocean. Lavishly decorated floats and costumed musical revelers entertain tens of thousands of spectators in the premier Fantasy Fest event. With this year's "Time Travel Unravels" theme, expect the Fantasy Fest 2017 Parade bring you back to the past and ahead to the future! Set your time machine for 7 PM on Saturday, October 28, 2017 to see this truly historical parade playfully saunter through the streets of Old Town Key West.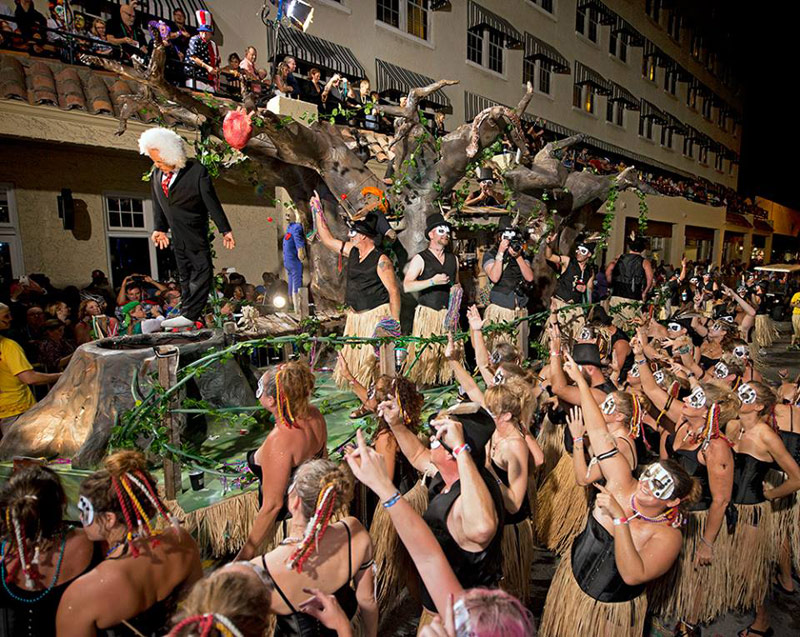 2017 Parade Participation information coming soon
KWFD Float Requirements
Sign Up to Be a Parade Ambassador

For questions or comments, please contact parade@fantasyfest.com.
✸
2016 Fantasy Fest Parade Float Winners
Grand Prize Overall Winner
Key West Yacht Club — "Red White and Blu-Doo"
Best in Creativity
Lower Keys Fluffers — "Weekend at Bernie's"
Best in Costume
Krewe of Key West — "Voodoo Becomes You"
Best in Entertainment
We Be Fit and Theme Runs — "The Purple Party"
Best Walking Group
Island Alex — "Christies Legacy"
Locals Favorite
The Minions of Key West — "Beowulf"