Fantasy Fest Parade
Each year, the Fantasy Fest Parade winds through the world famous Duval Street from the Gulf of Mexico to the Atlantic Ocean. Lavishly decorated floats and costumed revelers entertain tens of thousands of spectators in the premier Fantasy Fest event. With this year's "Political Voodoo & Ballot Box Barbarians" theme, expect the Fantasy Fest 2016 Parade to be the best yet! The parade kicks off at 7 PM on Saturday, October 29th.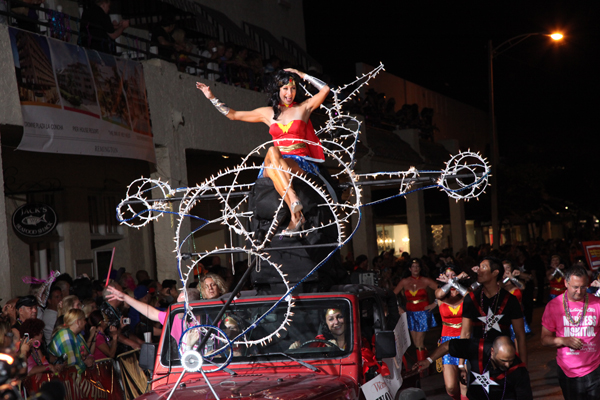 Parade Application
Release Form
Entrant Manual
KWFD Float Requirements
Media Information Form
Sign Up to Be a Parade Ambassador
Key West Chamber Local Award Application

The deadline for your Parade Application is Friday, Oct. 7, 2016.
For questions or comments, please contact Parade@MarketShareCompany.com
✸
2015 Fantasy Fest Parade Float Winners
GRAND PRIZE OVERALL WINNER:
Lower Keys Fluffers — "'Old Town' Funk Cantina"
BEST IN ENTRAINMENT:
Lower Keys Fluffers — "'Old Town' Funk Cantina"
BEST IN THEME:
We Be Fit and Theme Runs — "We Come In Peace"
BEST IN CREATIVITY:
Key West Yacht Club — "Intergalactic Cantina"
BEST IN COSTUME:
The Pilot House Guest House — "United Galaxies"
BEST WALKING GROUP:
Island Alex — "Mars Needs Women"
LOCALS' FAVORITE:
Dream Big Foundation Inc./Bourbon St. Pub. - "Cowboys and Aliens"
HONORABLE MENTION:
Advance Urgent Care/Golden Care — "Live Long and Prosper with Advanced Urgent Care and Golden Care"
Key West Golf Club — "Unicorn Planet"
Amsterdam's Curry Mansion Inn — "The Rocky Horror Picture Show"