Fantasy Fest Parade
Each year, the Fantasy Fest Parade winds through the world famous Duval Street from the Gulf of Mexico to the Atlantic Ocean. Lavishly decorated floats and costumed revelers entertain tens of thousands of spectators in the premier Fantasy Fest event. With this year's "Time Travel Unravels" theme, expect the Fantasy Fest 2017 Parade to dazzle and amaze you with creations from the PAST, FUTURE and PRESENT DAY!
The Fantasy Fest Parade route begins at the end of time (the end of Southard Street) in a wormhole, travels through the Big Bang Theory and returns in Rip Van Winkle's dreams. Be prepared for ghosts of Fantasy Fest past, steam punk in present day, and tourists from the future. The parade kicks off at 7 PM on Saturday, October 28th.
2017 Fantasy Fest Parade Application
The deadline for your Parade Application is Friday, Oct. 6, 2017.
Parade Ambassador & Entrant Release Form
Parade Entrant Manual
Media Information Form
Key West Fire Department Float Requirements
Sign Up to Be a Parade Ambassador

For questions or comments, please contact parade@fantasyfest.com.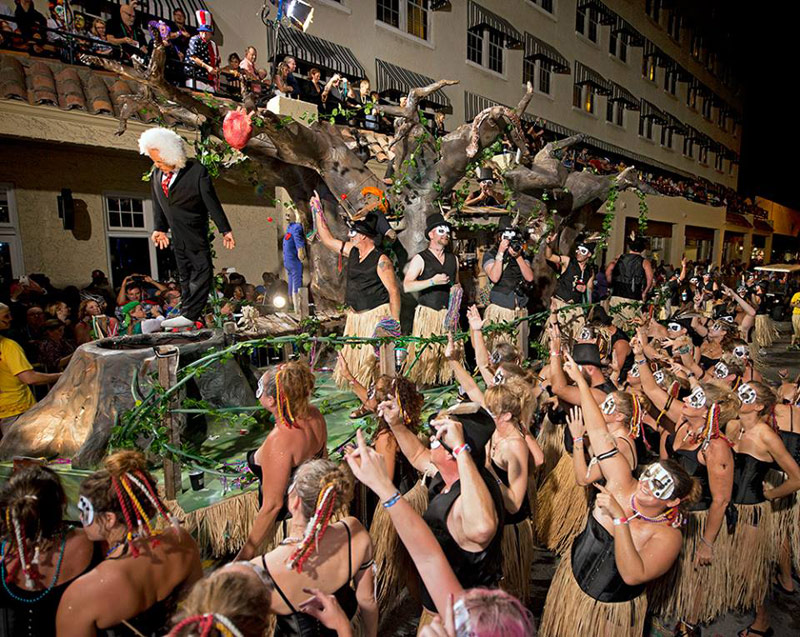 ✸
2016 Fantasy Fest Parade Float Winners
Grand Prize Overall Winner
Key West Yacht Club — "Red White and Blu-Doo"
Best in Creativity
Lower Keys Fluffers — "Weekend at Bernie's"
Best in Costume
Krewe of Key West — "Voodoo Becomes You"
Best in Entertainment
We Be Fit and Theme Runs — "The Purple Party"
Best Walking Group
Island Alex — "Christies Legacy"
Locals Favorite
The Minions of Key West — "Beowulf"