2022 BUD LIGHT FANTASY FEST PARADE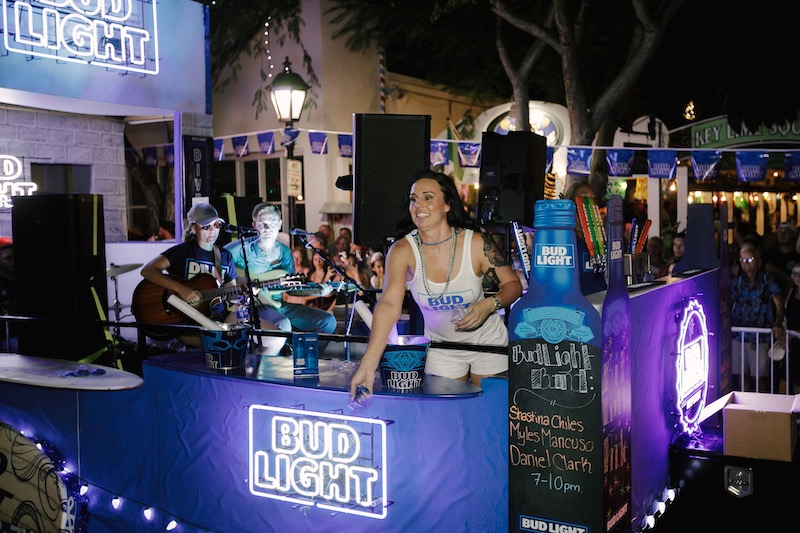 SATURDAY, OCTOBER 29, 2022 — 7pm
Each year, the Bud Light Fantasy Fest Parade winds through the world-famous Duval Street from the Gulf of Mexico to the Atlantic Ocean. The parade is a splendid moving party with festive floats, wild walking groups, bicycle brigades, and even human-powered kinetic machines that entertain tens of thousands spectators in the premier Fantasy Fest event.
2022 BUD LIGHT FANTASY FEST PARADE CASH PRIZES TOTAL $15,000.00
Bud Light Fantasy Fest Parade Application
Parade Entrant Manual
Parade Ambassador Manual
Media Information Form
Key West Fire Department Float Requirements

Sign Up to Be a Parade Ambassador

Waiver/Release Form For ALL Entrants, Volunteers,
Ambassadors, and Guests walking/riding in the Parade
If you have any questions email the Parade Coordinator at [email protected].
✸
2019 Bud Light Fantasy Fest
Parade Award Winners
Bud Light Fantasy Fest Parade's Best Overall Winner: Lower Keys Fluffers
Best Interpretation of Theme: WeBeFit and Theme Runs
Best In Costume: Daniel Bitnar
Best in Entertainment: Passion Project Dance Troupe
Best Walking Group: Top Hat Marching Orchestra
Best Conch Style Architecture: We're Not All There Society
Green Parrot's Best Live Music Award: News Barometer and Fanci Seafood
WeCycle's Best Bike Award: Virginia Wark
Director's Choice: Hemingway Look-A-Like Society
2019 Chamber Of Commerce Prize
Contest Award Winners
First Place: Lower Keys Fluffers
Second Place: 40 Foot Sharpie Float Crew
Best Walking Group: WeBeFit and Theme Runs