Key West Parking & Transportation
Green Transportation
Looking to get around the Keys without leaving a ton of footprints? Travel Green
Key West is a 4-mile-wide island, which means you can bike or walk anywhere! We Cycle, the official Green Transportation of Fantasy Fest and producers of the Zombie Bike, offers free delivery and pick up in Key West. Call (305) 292-3336 and reserve your ride today.
If biking is not for you don't worry! Hop on the free Duval Loop and get dropped off at your favorite party. Want to take a diversion and see the sights? Take a ride on the Conch Train or the Old Town Trolley and see what our beautiful island has to offer. Call (305) 296-6688 and book your trip today. If you are staying on a sister island then Up The Keys, Keys Shuttle and Ahoy Taxi will be providing shared rides during the 10 days of Fantasy Fest.
Car Free Key West
The island of Key West encourages everyone to forget their cars once they arrive to the Keys. Walk, bike, or bus around town using any of the great options below. Help us ensure everyone arrives safely and happily to their destination this Fantasy Fest!
WALKING: Almost every downtown destination is less than a 15-minute walk from another. Pay attention when crossing intersections, as cars and bicycles might not see you. Exercise caution downtown during the Street Fair, Masquerade March and Bud Light Fantasy Fest Parade.
BICYCLING: Locals know the best way to get around town is by bicycle. If you don't already have access to a bike, there are many great bicycle rental stores around the island. Make sure they give you a light to use after dark! When on the road, act like a car. When on a sidewalk, yield to pedestrians. Be a PAL: Predictable, Attentive and Lawful at all times. Pedicabs are also great ways to let someone else do the bicycling for you.
REGULAR BUS ROUTES During Fantasy Fest week:
Maps showing bus stops and times, and real time service are available at kwtransit.com. Real time bus information is also available by calling (305) 600-1455.
The Lower Keys Shuttle is a great way to get to Key West from anywhere up to Mile Marker 52.5. One way cost is $4.00 and you get dropped downtown where the action is. (Exact Change Required)
Road closures begin the weekend of the Bahama Village Goombay Festival, October 22 and October 23, 2021, which causes delays and detours to regular bus service, scheduled pick-up points and times. Updated information will be posted at kwtransit.com.
On Saturday, October 30, 2021, regular bus service will operate until 4:59 PM, at which time ALL City and Lower Keys bus service will convert to SAFE RIDE shuttles (see below) for the Bud Light Fantasy Fest parade.
The new Duval Loop will be running all week during Fantasy Fest. It's free, frequent and air conditioned! On Saturday, October 30, 2021, the Duval Loop will stop running at 12 Noon.
With the exception of the Duval Loop, City bus routes will NOT provide any service west of Simonton Street on either Friday or Saturday, October 22-23, 2021 (Goombay) or October 29-30, 2021 (Fantasy Fest)
Regular bus service will resume Sunday after 7 AM on October 24 and 31, 2021, or as soon as streets are opened.
CITY "SAFE RIDE" SHUTTLES FOR The Bud Light FANTASY FEST PARADE:
The City of Key West Department of Transportation is pleased to provide SAFE RIDE shuttle buses during the Bud Light Fantasy Fest Parade.
SAFE RIDE Shuttles will operate Saturday, October 30, 2021 between 5 PM and 2 AM. Due to traffic, specific schedules cannot be set, but you can check for real time bus arrival at kwtransit.com
The designated drop off / pick up point for all SAFE RIDE shuttles is Fausto's Food Palace on 522 Fleming Street.
The Lower Keys Shuttle SAFE RIDE runs between Key West and Marathon and costs $4.00 each way. There will be at least 4 buses dedicated to this route. The last Lower Keys Shuttle will depart Key West no later than 12:30 AM (after midnight) for the last trip towards Marathon. Plan ahead, seating is limited on the last bus out! (Exact Change Required)
Key West City SAFE RIDE buses (Orange, Blue, Red and Green) will follow their regular bus stop patterns. Bus rides terminating at the High School are free. Other route rides are $2.00 per person (Exact Change Required)
Updated schedules or changes will be posted on kwtransit.com
TAXI'S / RIDESHARE: To ease traffic congestion and safety concerns, taxi's and rideshare companies are asked to stay at or above (east) Simonton Street for pick up and drop offs. If you are requesting a taxi or rideshare, please walk towards Simonton to do so.
CAR PARKING: These 2021 Public Parking special events rates begin Friday, October 29, 2021 at 8:00 AM and end Sunday, October 31, 2021 at noon. Residential permit benefits are void in these lots during this time.
Old Town Garage: 300 Grinnell Street, $4 per hour or $32 per day.
Key West Bight: 815 Caroline Street, $4 per hour or $32 per day.
Mallory Square: 460 Wall Street, $5 per hour or $40 per day.
Truman Waterfront: $4 per hour.
PARK N RIDE: On Saturday, October 30, 2021, parking in front of Key West High School will be open to cars at a rate of $25 per vehicle. Key West Transit buses will run from 1-10 PM as a direct link between the High School and the SAFE RIDE Hub at Fausto's Food Palace, 522 Fleming. Bus Rides to and from the High School are free. After 10pm, riders can catch the City Orange Line from the SAFE Ride Hub to the High School, until 1:45 AM. All parking fees raise funds for the KWHS Class of 2022. Overnight parking is okay, but vehicles must be gone sometime Sunday, October 31, 2021.
RV/MOTORHOME PARKING: Oversized vehicles such as RV's, Tour Buses, Motor Homes, etc. are not permitted to travel within the Old Town / Downtown area. City Ordinance prohibits parking oversized vehicles on city streets. Oversized vehicles are required to drop and pick up passengers east of White Street. RV's and Motorhomes may park at Tour Bus Parking below, and CANNOT park or drop off at any of the other options given.
TOUR BUS PARKING:
Tour Buses, RV's and Motorhomes: Key West High School, 2100 Flagler Avenue. $50 with Reservation, $100 without reservation. Parking is allowed both Friday, October 29, 2021 arriving between 5-8 PM and Saturday, October 30, 2021 arriving between 11am and 8pm. Friday Reservations are REQUIRED in advance (reserve via email here), no overnight parking, picnicking, camping, or cooking. Free direct shuttle services are offered on Saturday only, from 1-10PM. After 10pm, return to the High School lot via the City Orange Line from the SAFE RIDE Hub until 1:45am.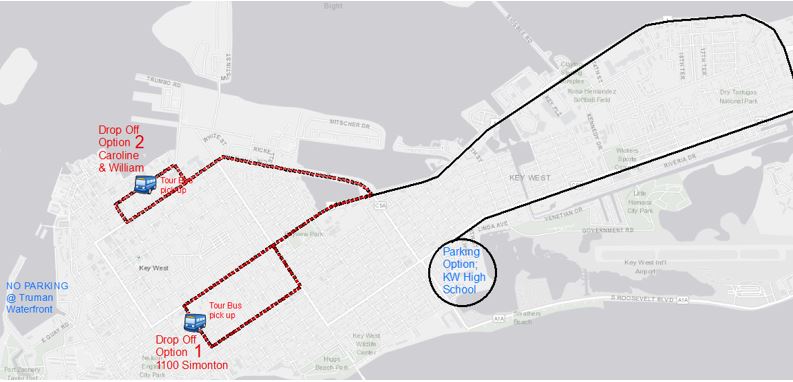 No COOLERS or BACKPACKS allowed in the Fantasy Zone — If you have a cooler or backpack you are subject to random search at any time. Leave your Cooler or backpack on the bus. No picnicking or cooking.
TOUR BUS DROP OFF: Free 15-minute drop-off and pick-up only. Drivers must organize pick-up time with passengers before arrival. Buses must leave Historic district after discharging passengers.
1100 Simonton Street
801 Caroline Street
PARKING ETIQUETTE: If you are able to find in-town parking, please remember:
Be courteous and do not block private driveways, entrances, etc.
Watch carefully for "No Parking," including "Resident only," areas. As the festival progresses, there will be additional no parking areas blocked off.
Parking restrictions are strictly enforced. Towing may occur to keep traffic and festival activities moving smoothly. If your vehicle is towed, please call the Police non-emergency number 305-809-1000. Parking tickets may be paid in person, online or mailed in – details are on the ticket.
Plan your exit route carefully to avoid being blocked by Bud Light Fantasy Fest Parade activities or heavy congestion.
Please watch for emergency vehicles attempting to access the very crowded side streets.
STREET CLOSURES: To accommodate the many street activities during Fantasy Fest 2021, portions of several streets will be closed on the following dates and times:
Friday, October 29, 2021 from 10 AM on: Duval Street from Front Street to Truman Avenue. Crossings at Front Street, Eaton Street, Fleming Street, Southard Street, Angela Street, Olivia Street, or Truman Avenue.
Saturday, October 30, 2021 from 10 AM on: Duval Street from Front Street to Truman Avenue. Crossings at Front Street, Eaton Street, or Truman Avenue.
Saturday, October 30, 2021 from 4 PM until parade end (~10pm):

All of Duval Street from Front Street to United Street.
Whitehead Street from Front Street to Truman Avenue.
Southard Street from Truman Waterfront to Simonton Street.

The following parking lots will be closed from 8 AM Friday, October 29, 2021 until noon Sunday, October 31, 2021: 500 block of Thomas Street, 300 block Fleming Street, & 500 block of Angela Street.