News
Fantasy Fest Background
Fantasy Fest is an annual, adult-themed, 10-day party in paradise. Started in 1979 by a small group of Key West locals, the party was created to bring visitors to the island in what was a typically quiet, but beautiful season. It worked. Fantasy Fest has grown every year since its inception and is now the wildest extravaganza around! Fun-loving revelers from around the globe leave their children and inhibitions behind as they descend upon Key West each year in October for 10 days filled with costuming, parades, libations, and excitement!
Fantasy Fest 2014 Theme
Each year, Fantasy Fest adopts a theme to help inspire fun costuming and amazing parade floats. This year's theme is Animeted Dreams & Adventures. For the uninitiated, Anime is a traditionally Japanese form of animation with diverse art styles. Over the past two decades, Anime has exploded onto the Western scene and sparked a costuming lifestyle known as cosplay. So get those costumes ready because this October, East meets Key West in what is sure to be an unforgettable Fantasy Fest!
Featured Merch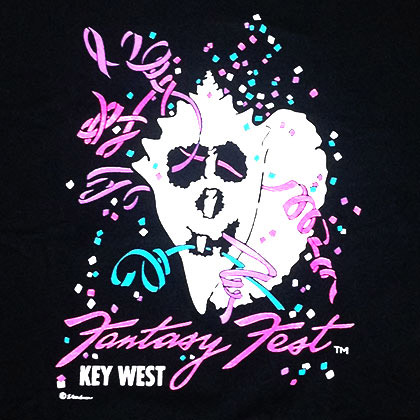 Own a piece of Fantasy Fest history with the official Fantasy Fest 1988 T-Shirt.
This limited edition shirt marked the 10 year anniversary of Fantasy Fest.
Each year's T-Shirt design receives a limited run print. Once gone, they're gone for good!
CAN'T MAKE IT
THIS YEAR?
We'll miss you!
View live streams
of several events
and watch the fun
on our webcams!
FUTURE FANTASY FEST DATES!
2015: 10/23 - 11/01
2016: 10/21 - 10/30
2017: 10/20 - 10/29
2018: 10/19 - 10/28
2019: 10/18 - 10/27
CURRENT TEMPERATURE
IN KEY WEST
80°F