News
Deadline Approaching!
Requests for Qualifications to produce Fantasy Fest Due by December 20, 2016
The Key West Tourist Development Association (TDA) is inviting Event Planners and providers of Event Management Services to submit their qualifications to plan and produce outdoor events and festival type activities for the purpose of managing Fantasy Fest beginning in 2017. The application packet can be obtained by emailing: tdaboardkw@gmail.com. The applications are due by December 20, 2016 and should be submitted to the email address noted above.
Questions of clarification can be submitted in writing to the Board by December 9. They will be answered in writing by the Board the week of December 12.
On December 21, the Board will begin the review of all applications. Selected parties will then be interviewed by the Board in early January with a goal to award the contract by January 20, 2017.
Market Share Company has been the Fantasy Fest producer for the last 27 years. The company and its founder, Linda O'Brien, will be retiring effective December 31, 2016. Market Share has developed the event to be a major economic stimulus for the community in a traditionally slow time. Fantasy Fest not only benefits business but is a major opportunity to raise funds for not-for-profit organizations.
About Fantasy Fest
Fantasy Fest takes place every October and culminates with a parade on the last Saturday of October. Children's Day follows on Sunday although handled outside of Fantasy Fest activities. The festival has grown to encompass 10 days with the crowning of a king and queen each year and subsequent events leading up to the parade. Previous year sanctioned event schedule included in RFQ. The vision is to showcase the variety of the venues in Key West as well as promote creativity and costuming.
About the Tourist Development Association
The TDA is a 37 year old nonprofit organization created in 1979 by a coalition of community advocates and business leaders. The TDA mission is to manage the business of Fantasy Fest and protect the trademark and copyrights TDA owns.
Fantasy Fest Background
Fantasy Fest is an annual 10-day party in paradise for grown-ups. Started in 1979 by a small group of Key West locals, the party was created to bring visitors to the island in what was a typically quiet, but beautiful season. It worked. Fantasy Fest has grown every year since its inception and is now the wildest extravaganza around! Fun-loving revelers from around the globe bring their creativity and imaginations as they descend upon Key West each year in October for 10 days filled with costuming, parades, libations, and excitement!
Featured Merch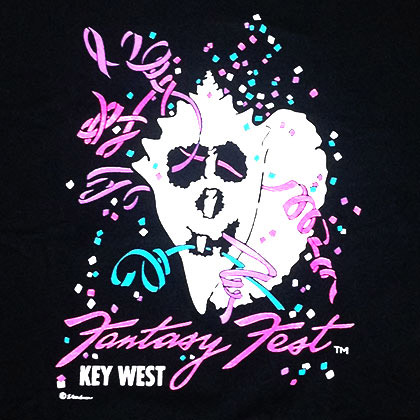 Own a piece of Fantasy Fest history with the official Fantasy Fest 1988 T-Shirt.
This limited edition shirt marked the 10 year anniversary of Fantasy Fest.
Each year's T-Shirt design receives a limited run print. Once gone, they're gone for good!
CAN'T MAKE IT
THIS YEAR?
We'll miss you!
View live streams
of several events
and watch the fun
on our webcams!
FUTURE FANTASY FEST DATES!
2017: 10/20 - 10/29
2018: 10/19 - 10/28
2019: 10/18 - 10/27
2020: 10/23 - 11/01
2021: 10/22 - 10/31
CURRENT TEMPERATURE
IN KEY WEST
76°F