Info
History
If you've ever spent any time on Key West's Duval Street, you'd imagine there's always a party going on, but that wasn't always true. Back in the 1970s, despite reliably beautiful weather, from a retail and tourism standpoint October was dead. Shops up and down Duval, put out the "gone fishing" signs and closed up for months at a time.
A group of local business owners started thinking about what they could do to change that by attracting visitors and tempting snowbirds to return sooner for an earlier start of the lucrative winter season. Bill Conkle, Tony Falcone, Joe Liszka and Frank Romano decided a big party might just do the trick — and taking advantage of the popularity of Halloween and the tradition of fanciful costuming locally, in 1979, they threw a parade.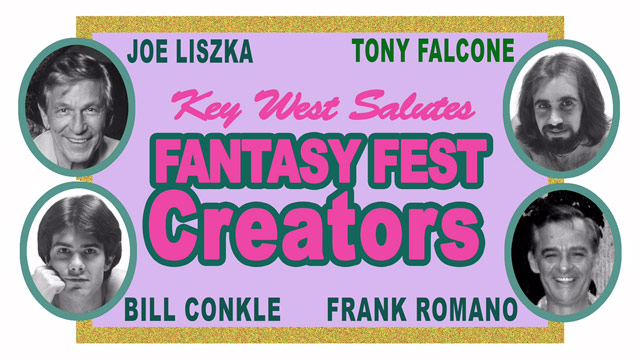 That first parade, small, but absolutely outrageous, has in time grown to be Fantasy Fest®, a festival of costumed parties in true Key West style. Over the years, Fantasy Fest, has become the premier masking and costuming extravaganza, like nothing else you've ever seen. The festival has grown to encompass more than 60 parties, costumed marches, street fairs, and glamorous balls, as well as the show-stopping Fantasy Fest parade.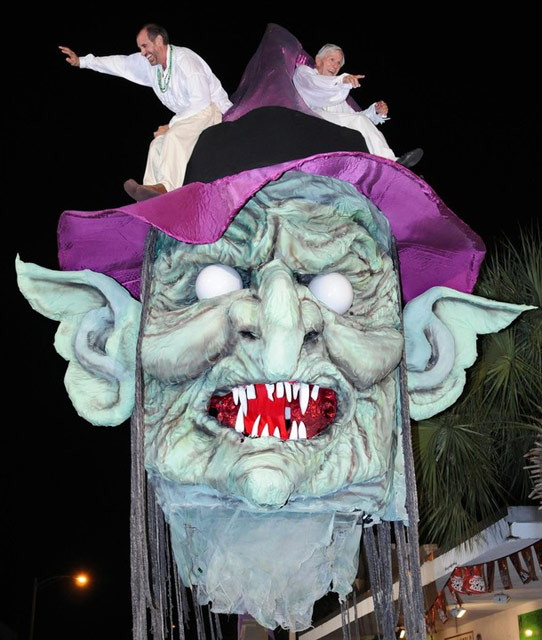 In 2009, Tony Falcone, on the left, and Joe Liszka, on the right, lead the Fantasy Fest Parade in a legendary Fast Buck Freddie's float.
Since its inception, Fantasy Fest has continually boosted the economy by filling up hotel rooms and showcasing local businesses, restaurants, and bars during the two weekends closest to Halloween. Bringing in as many as 75,000 revelers each year, it's an event that invites grown-ups out to play and celebrates our Florida Keys culture. Fantasy Fest is committed to extending the time that visitors stay by encouraging the creation of diverse events throughout the 10-day festival. The opportunity to show off the imaginative and resourceful spirit that defines the Keys excites local participants and visitors.
Many Fantasy Fest events and activities serve as important fundraisers for local non-profit organizations, including the iconic King & Queen of Fantasy Fest campaign, which raises money for AIDS Help of Monroe County.
And, now in 2017, expect new innovations designed to keep the festival fresh, relevant and fun, along with a renewed emphasis on encouraging local business engagement and participation, an increased focus on Keys arts and culture, and a commitment to recycling and keeping the festival green.
During the festival, visit our new Fantasy Zone Festival Hubs, for awesome Photo Ops and up-to-the-minute festival information. Purchase your must-have fest T-shirts, hats and koozies, and meet our local festival concierges, who can help you plan your schedule for the week or just find the best late night eats or live music. You can also score some samples and swag from our festival sponsors.
Enjoy your time with us in Key West, and plan to come back next year for another spectacular festival.
Past Fantasy Fest Themes
1979 Old Key West
1980 House of Horrors
1981 Va Va Voom
1982 Carnival
1983 Plays of Tennessee Williams
1984 50 Years of Film Fantasy™
1985 Broadway Fantasies™
1986 Fantasy in Space™
1987 Halloween with a Key West Flair™
1988 Fantasy Fest B.C.™ - 10th Anniversary
1989 Future Fantasies 2089™
1990 Caribbean Fantasies™
1991 Junglemania™
1992 Halloween in the Devil's Triangle™
1993 Lost in the '60's™
1994 Mystical Myths and Twisted Tales™
1995 Tinseltown Dreams™
1996 Call of the Wild™
1997 TV Jeebies™
1998 Fright Night on Bone Island™
1999 www.warptime.net™
2000 Circuses and Sideshows™
2001 Secrets of the Zodiac Revealed™
2002 Mystical Mornings/Monsterious Nights™
2003 Daze of Futures Past— 25 Years of Fantasy™
2004 Delirious Dreams and Hilarious Screams™
2005 Freaks, Geeks and Goddesses™
2006 Key Weird on the Dis-Oriented Express™
2007 Gnomes, Toads and White Rabbit Tea Parties™
2008 Pirates, Pundits and Political Party Animals™
2009 Villains, Vixens, and Vampires™
2010 Habitat for Insanity™
2011 Aquatic Afrolic™
2012 A-Conch-Alypse™
2013 Super Heroes, Villains & Beyond™
2014 Animéted Dreams and Adventures™
2015 All Hallows Intergalactic Freak Show™
2016 Political Voodoo & Ballot Box Barbarians™
A limited number of T-shirts and Posters are
available at the Fantasy Fest Store.
Click here to view.
✸