Masquerade March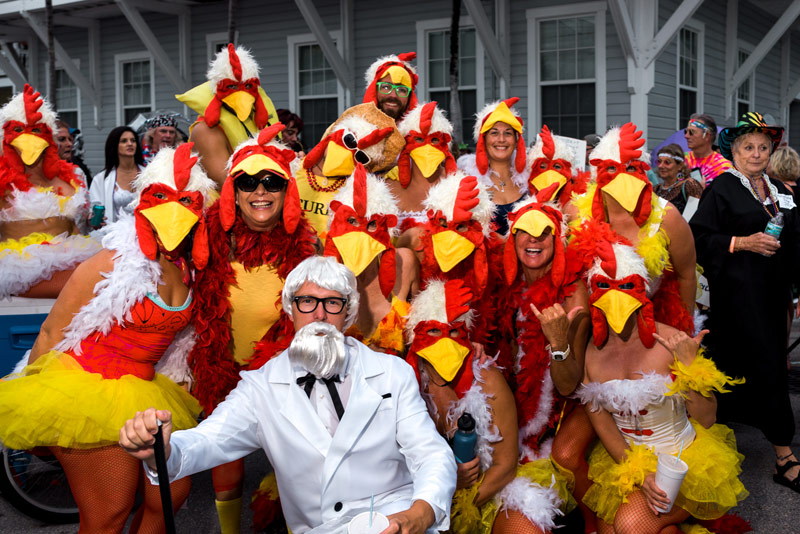 Join the hugely popular Fantasy Fest tradition, known as the locals' parade, highlighting costumes, creativity and community. The Masquerade March is a grown-up moving cocktail & dance party that begins at the Frances Street entrance of the Key West Cemetery. This moving mosaic of costumed revelers strut their wacky costumes on one of TWO rowdy routes. One route winds south to Truman Avenue and the other one makes its way north for Fleming Street. Each half of the parade stops at participating guest houses, which – while supplies last – hand out complimentary beverages. And for an extra special treat, the Truman Route stops at Old Town Wine and Spirits for a free bite to eat!!! When you have made your way through Old Town to Duval Street, don't worry, the party isn't over! Keep on partying at The Southernmost Beach Resort's After March Concert (503 South Street), at 90 Degrees in the Shade 90's-themed After March party at Key West Theater (512 Eaton Street), or at The Green Parrot After March party (601 Whitehead Street), where you will be serenaded by a marching ukulele band.
While Fantasy Fest encourages and looks forward to seeing the amazing creativity the march generates, please remember the march travels through local neighborhoods and costumes do need to cover all the essential bits. And, finally, please leave behind only memories, dispose of trash properly and please recycle.
As Fantasy Fest 2017 nears, we will have a map of the guest houses for 2017.